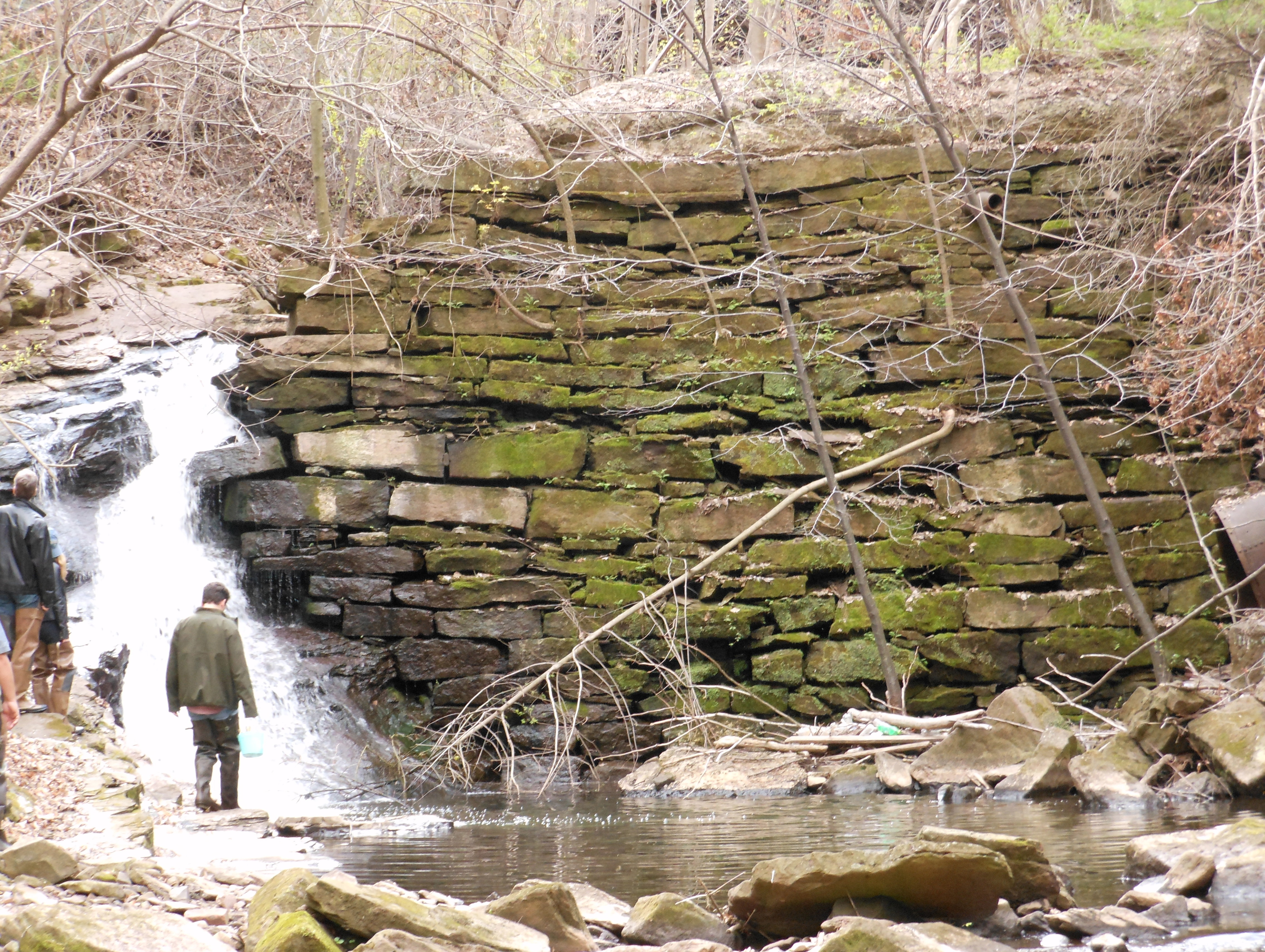 Like many European settlements in New England, Middletown fueled its expansion by building sawmills and grist mills along its most powerful streams and small rivers. Yet by 1800, Middletown was becoming a magnet for early industry: In addition to its hilly interior with ample water-power, it boasted a burgeoning population and a deep-water harbor for trade. Only a handful of cities enjoyed such a combination. Flowing out of Middletown — along with its exhausted water — were textiles, firearms, tools, locks, marine hardware, rubber goods, brakes, and more.
During the era of water power, the Coginchaug and Sumner-Pameacha stream systems each hosted more than a dozen industrial dams. This economic past is visible in the neighborhood of every old mill. Yet the industries have left, the mill buildings have largely been razed, and newer roadways run high above the industrial ravines. Traces of our relationship to water power are thus receding both from living memory and from public view. Yet many of the dams themselves remain, and their ecological and social impact remains complex.
Research and production of this web resource supported by Wesleyan University's College of the Environment. Site design by Elise Springer; research collaboration by Vijay Pinch, Clark Maines, and the entire 2011-2012 team of fellows. Special thanks also to Dick Boynton for a wealth of information about water power in Middlefield.
For additional perspective on Middletown's dams, please see these sources:
Greater Middletown Preservation Trust. Long Ago, Not Far Away: An Illustrated History of Six Middlesex County Towns. Ed. Julia Perkins, Bernadette S. Prue, & Claudette Kosinski. Walsworth Pub Co, 1996. Print.
Adams, Charles Collard. Middletown Upper Houses; a history of the north society of Middletown, Connecticut, from 1650 to 1800, with genealogical and biographical chapters on early families and a full genealogy of the Ranney family. New York, Grafton Press, c1908. Web. 24 July 2012.
Atack, Jeremy, Fred Bateman, and Thomas Weiss. "The Regional Diffusion and Adoption of the Steam Engine in American Manufacturing." The Journal of Economic History 40.02 (1980): 281–308.
Atkins, Thomas. History of Middlefield and Long Hill [1883 ]. Cornell University Library, 2009. Print.
Co, J.H. Beers &. Commemorative Biographical Record of Middlesex County, Connecticut: Containing Biographical Sketches of Prominent and Representative Citizens, and of Many of the Early Settled Families, Illustrated. J.H. Beers, 1903. Print.
Cronon, William. Changes in the Land: Indians, Colonists, and the Ecology of New England. Revised. Hill and Wang, 2003. Print.
Delaney, Edmund T. The Connecticut River: New England's Historic Waterway. 1st ed. Chester, Conn: Globe Pequot Press, 1983. Print.
Field, David D. A Statistical Account of the County of Middlesex, in Connecticut. Gale, Sabin Americana, 2012. Print.
Gerald J., Kauffman. "What If… the United States of America Were Based on Watersheds?" Water Policy 4.1 (2002): 57–68. Web. 7 Mar. 2012.
Goubert, Jean-Pierre. The Conquest of Water: The Advent of Health in the Industrial Age. Trans. Andrew Wilson. Princeton Univ Pr, 1989. Print.
Griffin, C. B. "WATERSHED COUNCILS: AN EMERGING FORM OF PUBLIC PARTICIPATION IN NATURAL RESOURCE MANAGEMENT1." JAWRA Journal of the American Water Resources Association 35.3 (1999): 505–518. Web. 7 Mar. 2012.
Hooper, Bruce Peter, and International Water Association. Integrated River Basin Governance: Learning from International Experiences. IWA Publishing, 2005. Print.
Hunter, Louis C. Waterpower in the Century of the Steam Engine. Published for the Eleutherian Mills-Hagley Foundation by the University Press of Virginia, 1979. Print.
Interior, U. S. Geological Survey U. S. Department of the et al. Water Quality in the Connecticut, Housatonic, and Thames River Basins, Connecticut, Massachusetts, New Hampshire, New York, and Vermont, 1992-95. 2011. Print.
Ives, Timothy H. "Reconstructing the Wangunk Reservation Land System: A Case Study of Native and Colonial Likeness in Central Connecticut." Ethnohistory 58.1 (2011): 65–89. Web. 1 May 2012.
MAGIC, Uconn Libraries. A New and Correct Map of Connecticut : One of the United States of North America from Actual Survey, Humbly Dedicated by Permission to His Excellency Samuel Huntington Esquire Governor. 1826. Web. 26 Sept. 2012.
---. Connecticut, from Actual Survey. 1826. Web. 26 Sept. 2012.
---. View of Middletown, Conn. 1877. 1877. Web. 26 Sept. 2012.
---. View of Middletown, Conn. 1915. 1915. Web. 26 Sept. 2012.
National Academy of Engineering, Technological Trajectories and the Human Environment. Ed. Jesse H. Ausubel & H. Dale Langford. National Academies Press, 1997. Print.
Nye, David E. Consuming Power: A Social History of American Energies. The MIT Press, 1999. Print.
Schlager, Edella, and William Blomquist. Embracing Watershed Politics. University Press of Colorado, 2008. Print.
Smith, Laurence et al., eds. Catchment and River Basin Management: Integrating Science and Governance. 1st ed. Routledge, 2012. Print.
Steinberg, Ted. Down to Earth: Nature's Role in American History. 2nd ed. Oxford University Press, USA, 2008. Print.
Steinberg, Theodore. Nature Incorporated: Industrialization and the Waters of New England. Cambridge University Press, 2004. Print.
Temin, Peter. "Steam and Waterpower in the Early Nineteenth Century." The Journal of Economic History 26.02 (1966): 187–205.
Whittemore, Henry. History of Middlesex County, Connecticut, with Biographical Sketches of Its Prominent Men. Nabu Press, 2010. Print.
Wikipedia contributors. "History of Connecticut Industry." Wikipedia, the free encyclopedia 17 Mar. 2012. Web. 1 May 2012.